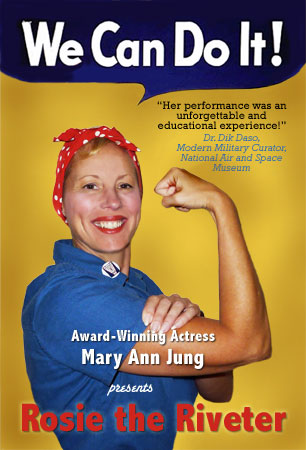 Rosie the Riveter
This show features:
Social history, women's history, WWII

During World War II, women joined the U.S. workforce by the millions to replace the men who'd gone off to fight. Learn the fascinating story of Rosie the Riveter through Rose Leigh Monroe who worked at the largest factory in the world-Willow Run in Michigan. Join in the fun as you meet or maybe even play Charles Lindbergh, Walter Pidgeon, and Franklin and Eleanor Roosevelt, all of whom toured Willow Run. Discover which came first-the Rosie posters, song, or the real women who sacrificed and worked in factories to help America win the war. Who was the real Rosie? The answer is riveting!
"Mary Ann's portrayal of Rosie the Riveter was "gosh darn" perfect. From costume and character to well-researched stories, she captured the essence of life in the factory, difficulties at home, and even the impact of politics and public opinion during World War II. Her performance takes living history to new heights. An unforgettable and educational experience!"
~ Dik Daso, Curator, National Air and Space Museum, Washington, DC
Enjoy images from this lively, funny, fact filled show, full of audience participation and energy.

Picture below: Rosie meets "Lucky Lindy" - how fortunate he was in the audience!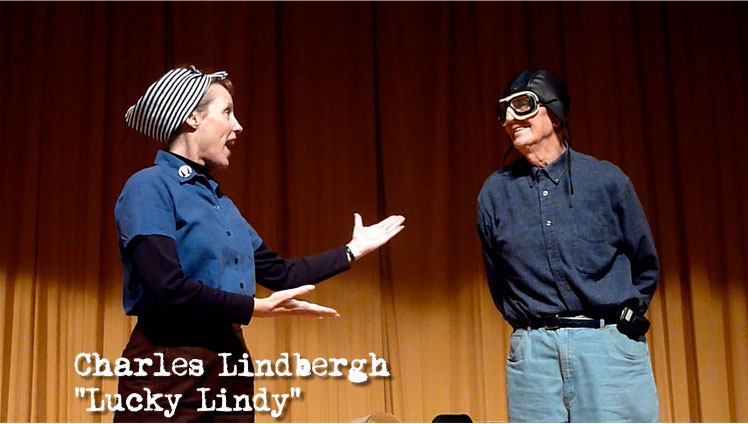 Picture below: Rosie meets hearthrob movie star Walter Pidgeon, also in the audience!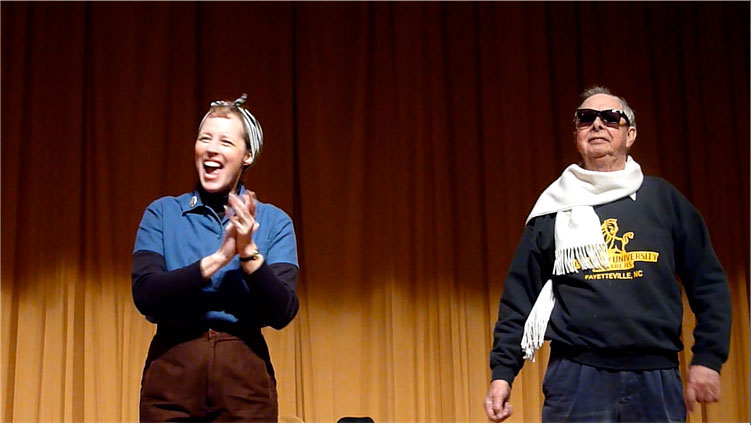 Picture below: How amazing! President Franklin Delano Roosevelt
and his wife Eleanor Roosevelt are also in the audience!