AMELIA EARHART
(1897-1937)
This show features:
20th Century, World War I , Early Aviation, and Working Women

Amelia Earhart, born in Atchison Kansas on July 24, 1897, was much more than just a courageous aviatrix. She was also a photographer, truck driver, avid student and teacher, volunteer nurse, social worker, and even a clothes designer! Whatever she did, she did with passion, commitment and a relaxed sense of humor that endeared her to the American public. Follow her amazing career in this energetic recounting of her life and achievements. Meet the fascinating personalities who were part of her journey, including Franklin and Eleanor Roosevelt.
Discover what the dangers were in the fledgling field of early twentieth century flying and re-live the last days before her dramatic disappearance. This show is a soaring tribute to the spirited heroine of both aviation and women's rights.
This is show has taken the enthusiastic audiences by storm! See the video and images below.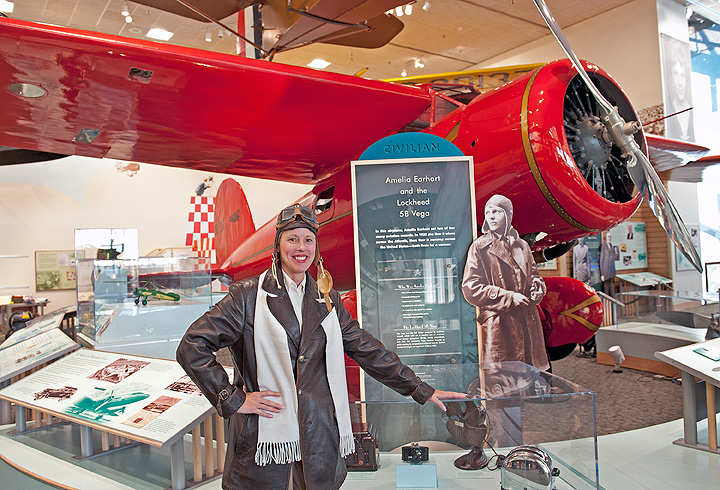 MARY ANN JUNG as AMELIA EARHART on television in WASHINGTON DC:
See below where Washington DC's Fox television network visits Mary Ann Jung as Amelia Earhart at the Smithsonian Institution's Air and Space Museum on Nov. 18, 2010. (Bypass the advertising and fast-forward to 3 mins and 20 seconds (3:20) into the video to see the interview).