MARGARET BRENT
(1601-1671)
This show features:
Colonial Maryland, Native American life, and Catholic history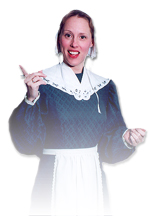 In 1638 a British Catholic named Margaret Brent fled religious persecution and landed in St. Mary's City. The Maryland Colony had been the first place in history to be legally founded on religious freedom. Maryland had been started by her cousin Anne Arundel's husband, Cecil Calvert, Lord Baltimore. Margaret Brent would lead a remarkable life helping the fledgling colony and the local natives. Along the way she would also become the first woman to own land in America, its first female lawyer, and the first woman in America to demand the right to vote!
Mistress Brent was educated and outspoken-something ladies were not supposed to be! Meet this amazing colonist and hear her lively account of her hardships in the wilderness. Her story is fleshed out with audience members playing Governor Leonard Calvert, the Piscataway Indians, and their chief. Will the settlers and natives in the Maryland Colony fight or become friends? Why did colonial records sometimes list her as "Gentleman"? Only the adventurous Mistress Brent can tell!
"Thanks so much for a wonderful afternoon at Annunciation School. The students learned TONS and enjoyed your performance."
~ Joan McCabe, Annunciation School.



Recommended by:
The Ark and The Dove Society
The Woman's Club of Roland Park